Finding ways to supplement one's income has become a common goal for many seniors. With increasing healthcare concerns and the growing demand for reliable medical alert systems, referring senior protection medical alert services has emerged as an excellent opportunity for seniors to earn extra income. This blog aims to shed light on how seniors can leverage their experience and networks to generate income by referring senior protection medical alert services.
Understanding What Senior Protection Offers:
Senior protection medical alert services are specialized devices designed to provide immediate assistance to seniors in case of emergencies or medical incidents. These devices typically consist of wearable buttons or pendants that seniors can easily access and activate during critical situations. Once activated, the device sends a distress signal to a monitoring center, connecting seniors live in real-time with trained professionals who can dispatch help promptly. More and more seniors are flocking towards independence and peace of mind through personal emergency response systems, this is a great opportunity to help seniors protect themselves at a great price, amazing service, and be rewarded in the process.
Benefits of Referring Senior Protection Medical Alert Services:
Enhancing Senior Safety: By referring medical alert services, seniors play an instrumental role in ensuring the safety and well-being of their peers. They empower their fellow seniors to live independently with confidence, knowing that help is just a button press away. While choosing the right service to recommend could be hard, keep in mind that Senior Protection is backed by over 20 years of protecting seniors and families across Canada.
Financial Incentives: Referral programs such as our Senior Protection ambassador program provides seniors with an opportunity to earn substantial financial incentives. Our program rewards seniors in Canada with a commission for every successful sign-up or sale generated through their referrals. This is usually done by word of mouth but nowadays more and more seniors are using the power of social media and their circle of friends.
Flexibility and Convenience: The Senior Protection referral program allows seniors to work at their own pace and convenience. There are no schedules or time commitments, absolutely no cost for referring, enabling you to fit referral activities into your daily routines without feeling overwhelmed. Most of our current seniors use the good old fashioned "word of mouth" approach offline and online.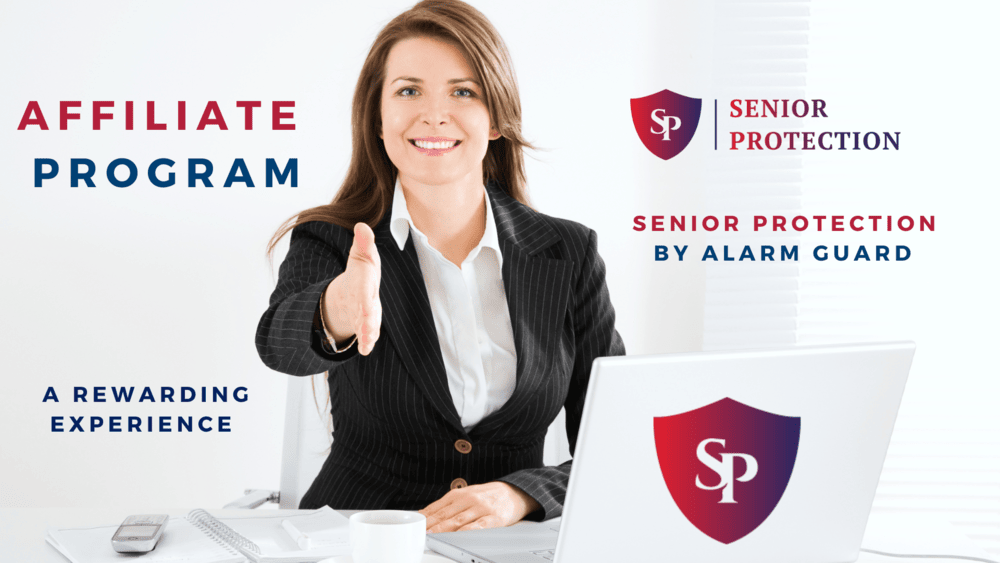 Steps to Earn Money by Referring Senior Protection Medical Alert Services:
Understand the Referral Program: Getting started is easy, simply familiarize yourself with our referral program. Request our referral information brochure here which helps you understand the terms and conditions, commission rates, and our payment methods. We cannot emphasize enough how easy it really is, without any commitments or any kind of stress.
Leverage Your Network: Utilize your existing network of friends, family, neighbors, and acquaintances to spread the word about the senior protection medical alert service. Communicate the benefits of the service, emphasizing the peace of mind it brings to seniors and their families. Consider attending community events, senior centers, or support groups to connect with potential customers directly.
Utilize Online Channels: Tap into the power of the internet to expand your referral reach. Create a simple website or blog where you can share information about the medical alert service and your honest intention. Leverage social media platforms, such as Facebook and Twitter, to promote the service and engage with interested individuals.
Participate in Local Events: Participate in local events and expos that cater to seniors and caregivers. Set up a booth or table where you can showcase the medical alert devices, distribute brochures or flyers, and provide information about the referral program. Personal interactions and demonstrations can go a long way in building trust and generating referrals.
Track and Follow-Up: Keep track of the referrals you have made and follow up with the individuals you have connected with. Offer assistance, answer questions, and address any concerns they may have. Being proactive in your approach demonstrates your commitment and may increase the likelihood of successful sales and make so many more friends in the process.
Referring senior protection medical alert services presents a rewarding opportunity for seniors to contribute to their community while earning extra income. By leveraging your knowledge, experience, and networks, you can play an essential role in promoting senior safety and well-being.
Join a rewarding program for all. The ambassador program does not cost anything to join and can be very lucrative for the right person. For more information on how to become an ambassador and start referring is to ask for our brochure.
We sincerely hope to hear from you and welcome you into our team.
Stay safe & enjoy life to the fullest.
Know more about our Rewarding Programs