As we age, it becomes important to create a safe living environment that supports our changing needs. There is no place like home, right? But sometimes everyday tasks may seem to cause discomfort, even when they shouldn't. We understand how important it is to live independently in your golden years.
We have some useful tips to keep your house your safe and happy place like always:
1 Move with Ease: By doing small modifications you can make a big difference, and the best part is you can find many budget-friendly options around. When it comes to maintaining accessibility and mobility, first you should consider taking a look into your hallways and doorways and see which spaces are too wide so you can strategically set grab bars.It will make you walk around your house effortlessly.
There are many places at home where you can relax, but I bet nothing is better than the feeling you get while taking a warm shower after a long day. This is why your bathroom has to be adjusted to your current needs. Practical modifications such as raised toilet seats, places grab bars, shower chairs or benches will create the perfect environment to be in.
2 Light up the space: Having the correct amount of light throughout the day is a game-changer. It will help you to minimize risks and improve your visibility while you are doing your daily activities. A simple and effective modification is to install extra lights and brighter bulbs in high-traffic areas like staircases, hallways, and entryways.
LED lights are an energy-efficient option that provides ample brightness and has a longer lifespan which reduces the need for frequent bulb replacements. But, in case you want to go further, motion-activated lights are also a great choice.
These lights automatically turn on when they detect movement providing instant illumination without the need to search for switches in the dark.
3 Home Safety: Peace of Mind: By living independently as a senior you have to put your safety as a #1 priority. Even after you have created your perfect environment, you could face some hidden risks around the house or need help immediately in case of any accidents.
One effective measure you can take is to buy a medical button. Wouldn't you feel peaceful if you knew there is always someone ready to help you? This device will assist you by detecting falls, allowing you to communicate with prepared professionals and get help in a few seconds just after you pressed the button.
4 Non-Slip Surfaces: The type of floor you have, can contribute significantly to the level of security you feel at your place. And if you decide to stay at home you need to feel confident when you walk around. We understand that changing the floor of the whole house is not a suitable option, but using high-pile carpeting is! This option, aside from preventing slip-and-fall accidents, will provide stability and balance when you walk.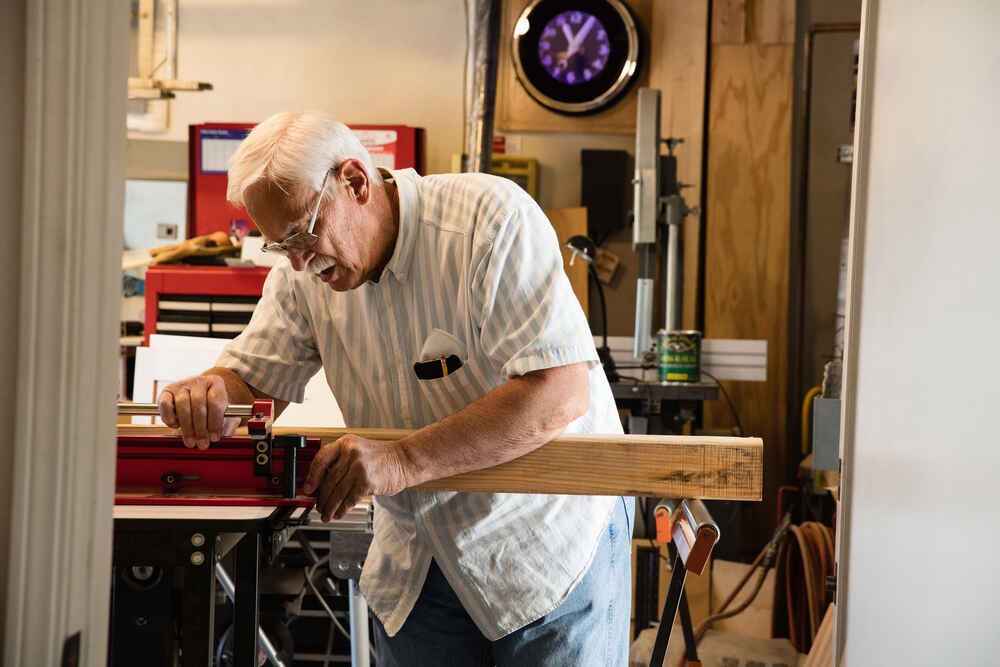 5 Be Active: Having an active lifestyle is the best way to keep yourself healthy. You just need to clear up any space you want and choose the equipment that is safe and appropriate for your fitness level. Yoga mat, resistance bands, hand weights, or if you want to make it more complete even a stationary bike.
Personalize the area to motivate yourself, you can decorate the place and place a device to play your favorite music to enjoy it even more.
6 Medical Alert: But don't forget about security. The best choice you can make is to get a medical alert watch, this device will help you to enjoy your workouts without worrying about being safe.
You can easily track your heart rate, count your steps and get reliable and immediate access to assistance in case of emergencies by pressing the SOS button.
These changes to your home can make a big difference in keeping you safe and happy as you age in your place. Your safety is our top priority, if you want more information about medical devices to keep yourself active and independent contact us.
Stay active and safe with Senior Protection.
For more information, please call 1 866 416 0838 and speak with our customer care team.