A medical alert is a form of personal protection to help alert emergency services when an emergency or accident occurs. Many people believe this type of service is only for Seniors, however it can be used by many other people for many other reasons.
In order to fully understand how a medical alert device works we need to learn the different components that make up the complete service and how it helps the consumer.
Personal Emergency Response Systems (PERS), also known as Medical Emergency Response Systems. Medical alert pendants and boutons instantly connect seniors to emergency help. Let you call for help in an emergency by pushing a button. With the advancements of technology over the years there are now 2 different kinds of services that exist within the industry. PERS for at home and mPERS on-the-go (mobile PERS)
Traditional PERS for in the home as Medical Emergency Pendant
A PERS has three components that are needed to function correctly: a small radio transmitter, a console connected to your telephone, and an emergency response center that monitors the calls.
The radio transmitter, aka "medical emergency pendant" can be worn around the wrist, neck (with a lanyard) or even in the pocket. This is carried by the recipient so in the event of an emergency they can press the button where it will initiate a call from a box located somewhere in the home that is connected to your traditional phone line. Keep in mind the emergency can be initiated by a fall if the wearer has a fall detection enabled on the device. This type of unit usually covers the customer inside the home or a perimeter of approximately up to 300 ft.
The console is a box that is plugged into the customer's phone line system and communicates to the monitoring centre by initiating the emergency call with the phone number pre-programmed inside. The console receives the panic alarm signal from the medical alert pendant worn by the customer and calls the monitoring center where the customer can speak with them through a large speaker and microphone built into the console. Unfortunately, this is a fixed location in the home and to speak with the monitoring station the customer needs to be close to the unit for a two way voice call. At Least it will still call out and report the alarm so action may be taken.
The monitoring centre is the front-line communication that answers all emergency calls sent through the PERS system. Think of them as the guardians that have the power to send Emergency Medical Response to you when you request it. The moment the system alerts them all your information is on the screen including some important medical information, your location (physical address) and any other information that is important when you signed up through your PERS provider.
Now that we have a better understanding of what and how PERS at home works, let's take a look at the pros and cons for this type of setup.
Pros:
The ability to wear a device that will call out for help in the event of an emergency with the push of a button or fall (if wearing an enabled one)
Lower cost as it utilizes the customer's home phone line
24/7 live response with the monitoring centre
Medical Alert Pendant that can be worn is much smaller than mPERS
Customers who live alone can have peace of mind
Great for customers with mobility issues or stay at home
Cons:
Can only be used inside and around the home within 100 – 300ft
The system needs power and if unplugged will not work.
Two-way voice only works if the customer is near the console unit.
Must keep the phone line active or will not work.
Will not work with any phone line interruptions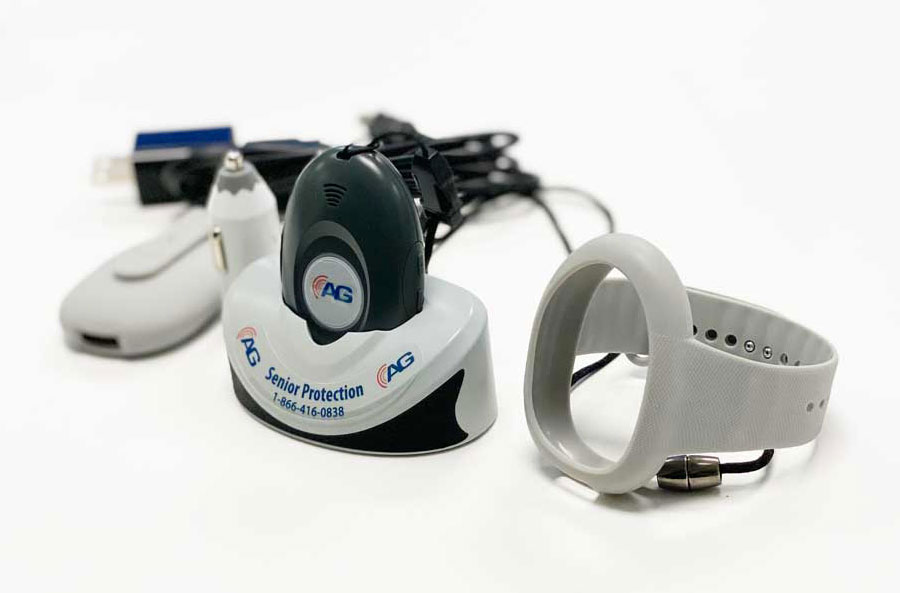 mPERS for the active lifestyle
mPERS (mobile personal emergency response) is the new and improved system that is being used today. Even though the concept is the same as for contacting emergency response with the button press or if a fall is detected, it allows for the ability to be protected anywhere you go. The mobile medical alert device is similar to a cell phone but with only one phone number programmed to call out, you guessed it (yes the 24hr response team or monitoring centre). This allows for on-demand service anywhere that carries a cell signal.
Wait, that's not all. Because of the advancements in technology, data can be sent with automation to alert family and friends of your emergency. This can be in the form of sms alerts or a customer care chat channel. GPS is also available in the mPERS that can triangulate your position which can help locate you in the event you cannot talk or describe your situation.
What are the pros & cons of mPERS ?
Pros:
The ability to wear a device that will call out for help in the event of an emergency with the push of a button or fall (if wearing an enabled one)
Direct signal to 24/7 monitoring and no need for the telephone line.
24/7 live response with the monitoring centre
Medical Alert Pendant can voice prompt for alerts such as low battery etc. Customers who live alone or travel alone can have peace of mind
Great for in the home as well as outside the home
Quicker response to alarms with mobile two way voice
Sms notifications can be sent to family and friends
Waterproof for rain or showers
Can enable fall detection or not
Cons:
Must ensure to charge the battery every 72 hours similar to cell phones.
More expensive than traditional PERS
How to decide on the right service
The answer can be easy depending on your individual lifestyle. For example, if you lead an active lifestyle then chances are you will want to be protected everywhere you go which includes at home. Here is a checklist that may help you decide the path to obtaining your first medical alert device.
Are you recovering from a serious accident and will be restricted to your bedroom for months?
You may opt in for PERS at home if you have a phone line.
Do you lead an active lifestyle? Meaning do you leave the home at least once or twice per week? If so, you may want to consider mPERS.
Do you even have a traditional phone line? If not the answer would be clear to simply obtain an mPERS instead of installing a phone line with charges simply just for PERS.
Do you want to be able to speak with the live agents no matter where you are in or outside the home? If you answered yes then mPERS is your choice.
No matter the type of service you decide on, it is important to select a company that is Canadian and will satisfy all your needs. At Senior Protection we believe in customer service first and foremost. Allow me to give you some reasons on why you should select us.
Our Advantages and Service Attributes:
Proudly Canadian
Serving & Protecting Canadians for over 19 years
Provides PERS & mPERS
The customer care team exceeds all customer expectations
We offer a solution and a program that is affordable
We work with government assistance programs
Our program works across Canada
Free Shipping…
$0 Activation and setup fees
Call us today to find out more about our medical alert system 1 866 416 0838