Become A Senior Protection Dealer In Canada Today A Rewarding & Lucrative PERS Dealer Program
Did someone say business opportunity? For the first time ever, Canadian entrepreneurs and small business owners now have the opportunity to join a leading provider with a proven track record in the PERS industry. Senior Protection is proud to announce the dealer program with what we believe to be the winning formula opportunity here in Canada.
Great news!!
Senior Protection is now accepting applications towards the new dealer program that is scheduled to launch on November 1st, 2022.
A Few Words About Senior Protection
Senior Protection is a proud division of Alarm Guard Security. Proudly Canadian protecting families and seniors across Canada for over 19 yrs. Senior Protection is a leading provider of personal emergency response systems and services here in Canada. We offer in-home medical alert protection as well as mPERS.
Our team is laser-focused on the aging-in-place, safety, and healthcare markets by developing industry-leading personal emergency response services offering client safety and caregiver peace of mind.
What is the S.P. Culture?
Senior Protection was built on the principle of saving lives. Our staff are highly trained and motivated in helping seniors through our customer care team. Some of which have worked in the health industry as personal support workers and healthcare aids.
What is the S.P. Vision?
Our vision is to become the largest provider of personal emergency response services in Canada. Each year our customer base continues to grow exponentially, we are great at what we do and we truly care about the health and safety of our customers and staff.
Service Commitment
We believe in exceeding customer satisfaction and performing at our finest. A major part of our service commitment is ensuring we carry the absolute best products available. Many of our services offer our customers a safety solution that they can afford and in most cases with $0 upfront cost.
Why Become A Senior Protection Dealer?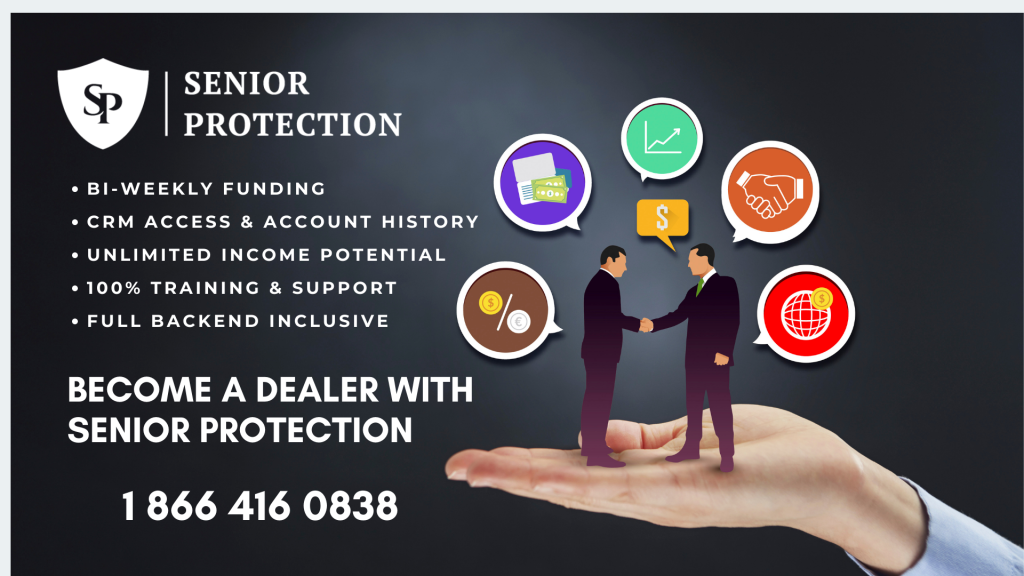 When partnering with us, all our dealers enjoy the features and special benefits that help any business succeed. From our business to yours.
BI-WEEKLY FUNDING
CRM ACCESS & ACCOUNT HISTORY
UNLIMITED INCOME POTENTIAL
100% TRAINING & SUPPORT
FULL BACKEND INCLUSIVE
Bi-Weekly funding: Enjoy fast and convenient funding on all completed accounts that are processed. We understand cash flow is important and one of the most important factors of growing any business, let's grow together.
Unlimited Income Potential: There is no limit or cap to the amount of PERS accounts that can be sold by our dealers. With a 10% increase every year in a market that is currently producing 2.1 Billion in revenue offers tremendous potential in this growing industry.
100% Training & Support: Offering the best customer service and support to our customers is not a secret, but the true secret is ensuring our company and every extension of it, is fully trained and supported through our winning strategy.
The customer experience begins at the first point of contact and should continue through the sales experience & service. Senior Protection ensures all our marketing partners, sub-dealers and lead generators are prepared and trained through our extensive program before coming on board.
Full Backend (All Inclusive): When we say "All In" we mean it, once the sale is completed we take over every aspect of keeping the customer safe and our dealers paid and up to date.
The following departments are included in our full backend for dealers but are not limited to the following:
Complete Customer Care
Accounting & Funding
Dedicated Dealer Manager
National Sales Training Department
Service Department
Shipping & Logistics
How To Get Started?
If you are looking for a rewarding and possible lucrative opportunity? Something that will allow you to utilize your skills with the full support and backend of a well-known dominating leader in an ever-growing industry?
Contact Senior Protection today for more information on our new dealer opportunity program. The time to grow is now.
Keep in mind, Senior Protection is currently not charging for dealer enrollment, however at some point this may change for new dealers in the future.
Please contact the Customer Care Team at 1 866 416 0838