What is the Seniors Home Safety Tax Credit ?
This refundable tax credit is for the 2021 tax year only, and was introduced by the Ontario 2020 Budget.
The intention of the credit is to support seniors who stay in their homes, and allow them to age in place safely by providing a tax credit for renovations or improvements that make their homes safer and more accessible.
The tax credit should provide an estimated $30 Million in support to around 27,000 who are aged 65 or older by the end of 2021 as well as people who live with senior relatives. Senior Protection was pleased to hear the announcement and the commitment the Ontario government has to helping seniors live longer and safer in their current homes, rentals and with relatives.
Eligibility requirements?
Most importantly the expenses must be paid or payable in 2021. The renovation expenses are eligible if they improve safety and accessibility or help a senior be more functional or mobile at home.
For example the following can be considered towards the expense for receiving a tax break as outlined in Ontario (click here for more information)
●  Grab bars and related reinforcements around the toilet, tub and shower
●  Wheelchair ramps, stair/wheelchair lifts and elevators
●  Certain renovations to permit first floor occupancy or a secondary suite for a
senior
●  Handrails in corridors
●  Walk-in bathtubs
●  Wheel-in showers
●  Comfort height toilets
●  Widening passage doors
●  Lowering existing counters/cupboards
●  Installing adjustable counters/cupboards
●  Light switches and electrical outlets placed in accessible locations
●  Door locks that are easy to operate
●  Lever handles on doors and taps, instead of knobs
●  Pull-out shelves under counters to enable work from a seated position
●  Non-slip flooring
●  A hand-held shower on an adjustable rod or high-low mounting brackets
●  Additional light fixtures throughout the home and exterior entrances
●  Swing clear hinges on doors to widen doorways
●  Creation of knee space under the basin to enable use from a seated position (and
insulation of any hot-water pipes)
●  Relocation of tap to front or side for easier access
●  Hands-free taps
●  Touch-and-release drawers and cupboards
●  Automatic garage door openers & motion-activated lighting
How much can you expect as a credit or tax break from these renovations?
The Seniors Home Safety Tax Credit is worth 25% of up to $10,000 in eligible expenses for a senior's principal residence in Ontario, offering a maximum credit of $2,500.00.
Why is Senior Protection writing an article regarding tax breaks for seniors in Ontario?
Senior Protection is a division by Alarm Guard Security that has been protecting families & seniors since 2003. Every attempt is made by our company to enhance our "aging in place" philosophy to Canadians and keep them informed when it relates to safety and personal protection. For that reason we believe in spreading the word so as many seniors and families with seniors can take advantage for their best well being.
We believe seniors in Canada deserve the very best from our government, agencies and any third party companies whether private or not, to help seniors keep their independence for as long as possible.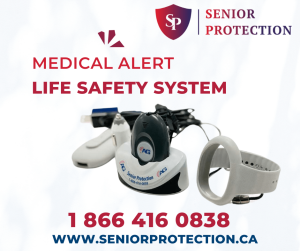 What Can Senior Protection Do For Me?
We are dedicated to offering a solution to seniors that is affordable and reachable. We offer a personal emergency response system that is helping seniors in Canada to "Age in Place" while keeping them safe.
Senior Protection is a leading provider of medical alert devices for seniors who stay at home as well as those with an active lifestyle. Our solution caters to the individual needs of seniors as well as their families.
For more information on our service please contact us today ! 1 866 416 0838
Helping Seniors Live Life On Their Terms